For Sale ~ Spinning wheels, check them out in the Guild Room.
For Sale ~ Louet S15 Spinning Wheel. Located in Guild Room. Comes with 3 bobbins $350. Contact Birthe at 250-964-6454 or email treasurer@pgfibrearts.ca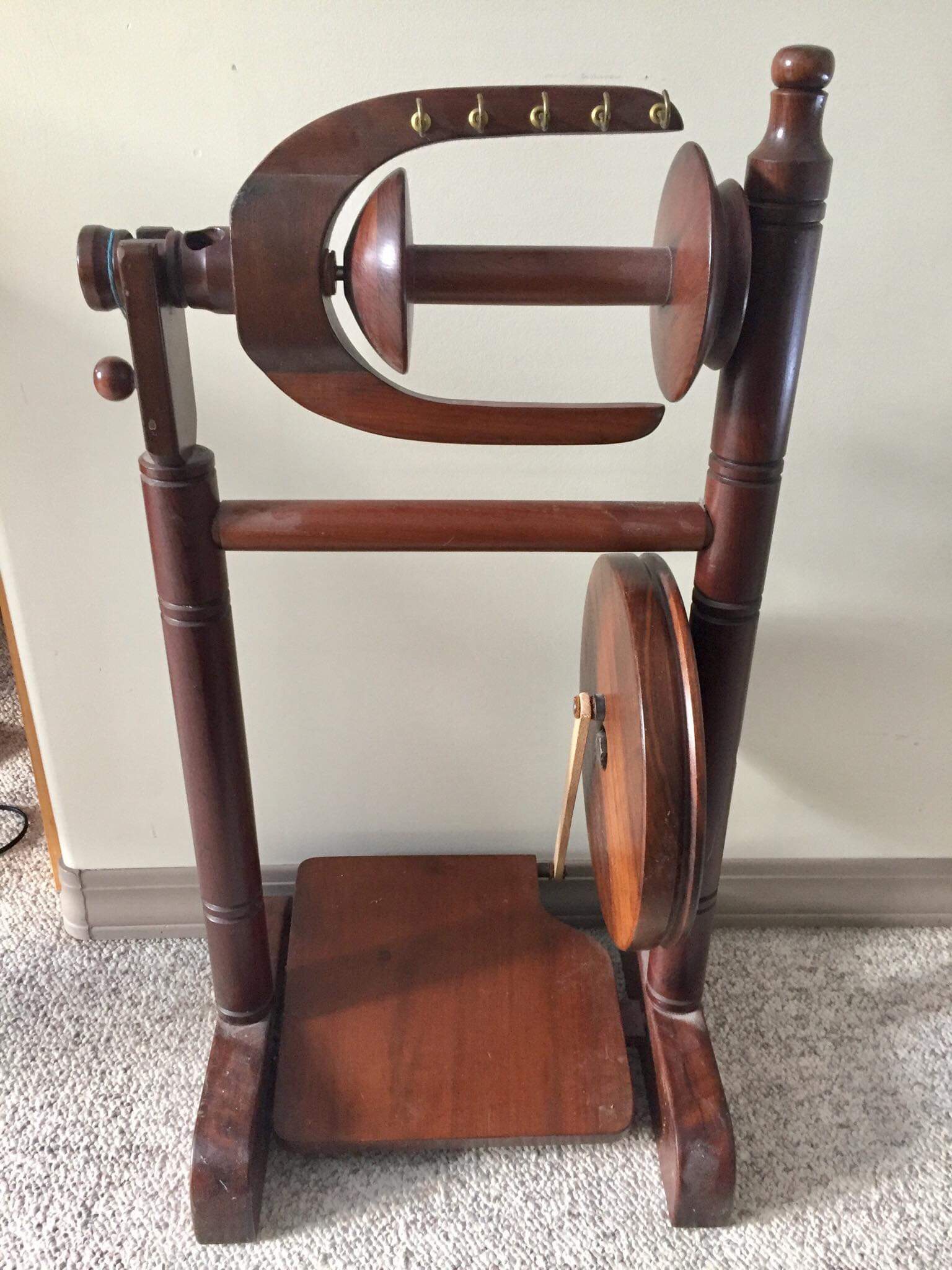 For Sale ~ Spinning Wheel for bulky yarns.
Located in Smithers. $200 Call or text 778-202-0764 or email
amy.brockmeyer@gmail.com.
For Sale ~ Theo Lusty Black Walnut Spinning Wheel for $225 and an Indian Head Spinning Wheel (with treadle, on old Singer Sewing machine table) for $75. Call Dawn Germyn at 250-633-2520.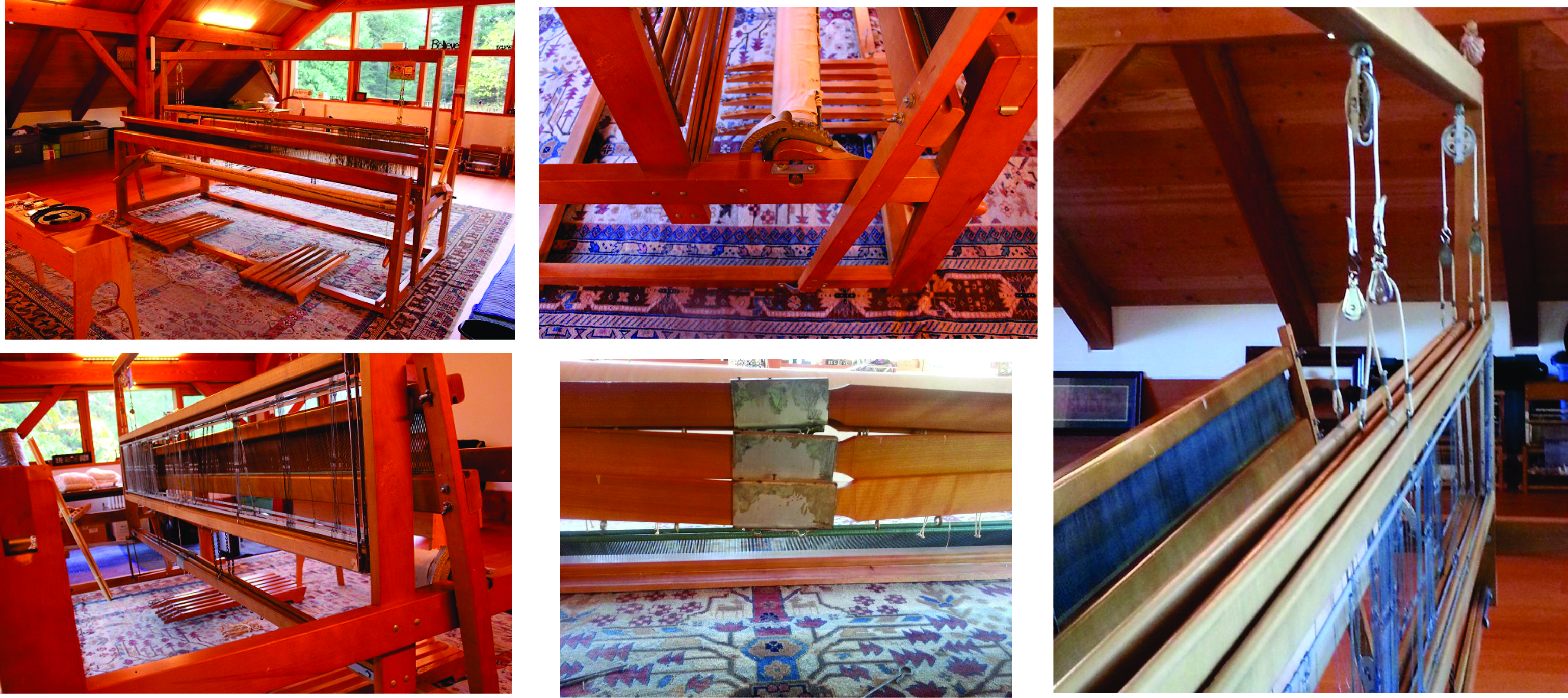 For Sale ~ LeClerc KEBEC I Weaving Loom for sale; $3,200.00
1970's LeClerc Kebec I is a strongly built 4 shaft counter-balance loom, allowing the production of wide fabrics. It is designed to be operated by two weavers, each one working with his own set of treadles, and throwing or receiving the shuttle in turn. It is possible to affix this loom with a flying shuttle to allow one weaver to weave alone. It is equipped with treadle sets (2) fixed in front.
Whichever treadle is used, the tension remains the same and the shed is perfect from one end to the other. Comes with plain wire heddles, bench, 2 reeds and 4 shuttles. The loom also includes four additional harnesses. The loom is currently assembled and located on Pender Island, British Columbia. Price is negotiable. Please email Charlene at
thebarnonpender@gmail.com or telephone (250) 222-8646.
For Sale ~ Loom looking for a good home: Cherryville loom (based on Scandinavian model) four shafts, counterbalanced

loom. Overall dimensions are 62" x 43" x 45". No bench or reed. Contact: Caitlin
cait_nicholson@hotmail.com
For Sale ~ Cherryville loom with bench and silk. Located in the lower mainland, $450. Contact: Carole at
cburd@telus.net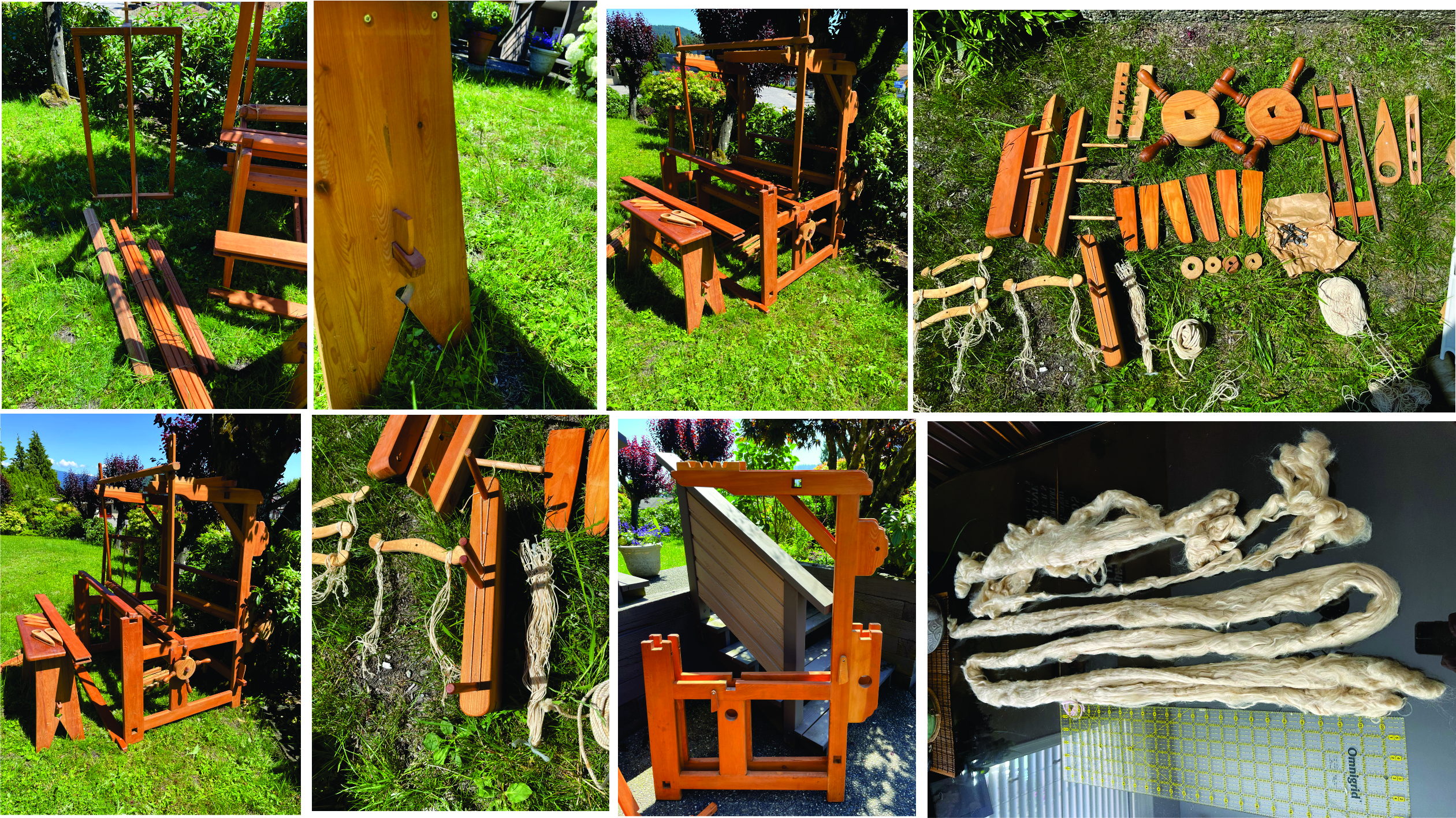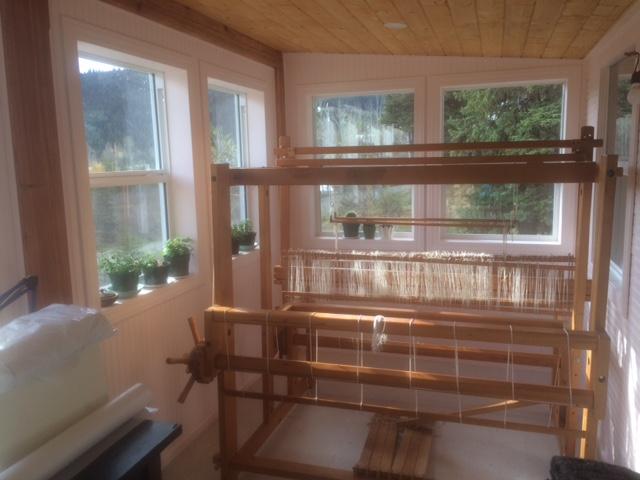 For Sale ~ 56" 4 harness Woolhouse floor loom. In excellent condition, made in the Okanagan. No bench, no reeds. $800. Please call Sharon Brown at
250-994-3323 or e-mail
shaz_brown@yahoo.ca.
For Sale ~ Spring Loom + Accessories for sale $4,500
Spring loom, owned by Silk Weaving Studio production weaver. This 90cm/36" loom is an older girl, but has had only 2 owners. She's worked hard, and has been lovingly cared for. She's an "Bells and Whistles" manual loom, featuring 12 harnesses, 14 treadles, and a second back beam. For the breadth of things she can do, she's compact and won't demand too much space. Her back folds up a bit when she's not in use (which won't be often if she gets her way). She'll be happiest with a serious weaver who will put her through her paces. She likes to work hard, and won't disappoint you.
Additional photos available upon request.
mailto:joskigee@gmail.com
Includes:
- 90cm 12-Harness Spring loom (14 treadles)
- Glimakra weaving bench
- Louet Spring 2nd back beam
Accessories included:
- LED light over work area
- Loads of heddles (on loom + extras)
- Extra texsolv
- Lots of texsolv cut to tie-up lengths (short and long)
- Lease sticks (2 sets)
- Leclerc shuttles (2)
- Owner's Manual, documentation
- Reeds: 4dpi, 8dpi (stainless steel), 10dpi (stainless steel), 12dpi, 15dpi, 20dpi (the 20dpi has a bit of rust; the others are in great shape)
- Threading hooks (3)
- Paper for warp-winding
- Extra set of beater side supports
For Sale ~ Gilmore 46" Maple Floor Loom plus 2 stainless steel reeds, Gilmore maple bench, and 5 shuttles (small, medium, and double boat; small and regular inkles). This equipment is brand new, has never been used. We are asking half of the new price US $4218, which comes out to $2119, but we will take Canadian $2119, so that is less than 40% of new price. Everything is in excellent condition. We will deliver the loom and equipment anywhere in BC. Call Dawn Germyn at 250-633-2520.
For Sale ~ New Ashford Inkle Loom with all the fibre shown plus more in the orange/green bag. $100 Items located in Surrey, BC. Contact Sandra at (250) 613-8307.

For Sale ~ Barely used, fab felter by "Sewing with Nancy". Holds 5 needles, has tool compartment, and comes with wheeled storage/ travelling suitcase. $75.00 Contact: Gail by texting
250-617-3397 or email gail_stevenson@telus.net
For Sale ~ Drumcarder. It might be vintage but in working order, cloth is in good shape. Also 3 pieces of carding cloth 12TPI 4"x9.5", 4"x14" and 4"x18". Located in Guild Room $200. Contact Birthe at 250-964-6454 or email treasurer@pgfibrearts.ca

For Sale ~ Carders and other fibre arts related equipment. Check them out in the Guild Room.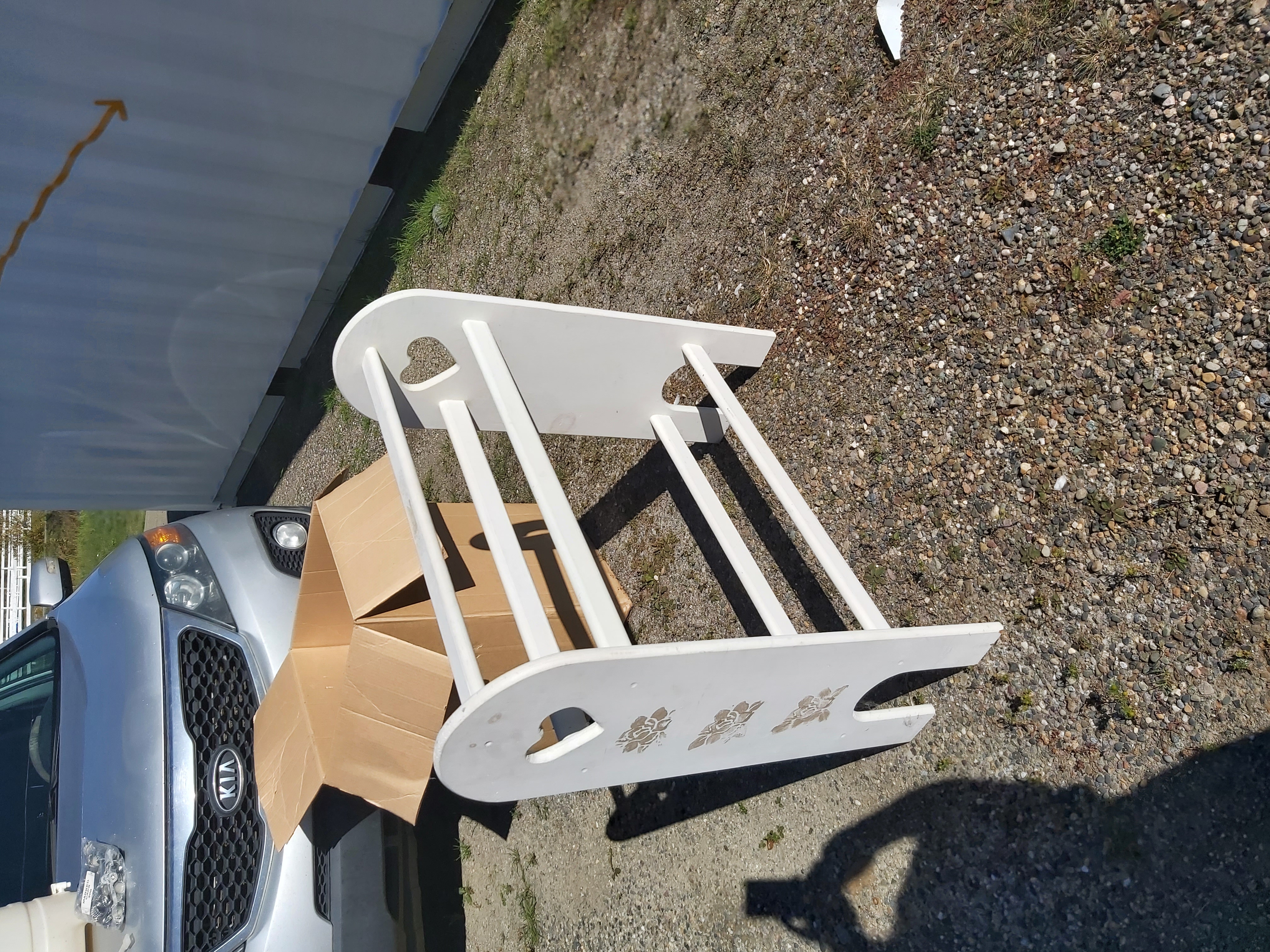 For Sale ~ Quilt Stand. White, solid wood easy to repaint $20. If interested contact Deirdre at
deirdre.addams@gmail.com
Coloured Romney Fleece For Sale
Krystyna at Night Hawke Ranch has some fleece for sale in the Guild Room. Check them out!
She is also willing to sell a whole fleece or will also separate a fleece and sell it by the pound for $20.00 plus shipping. The best way to contact her is via email. RON AND KRYSTYNA WARREN
nighthawkranch@shaw.ca
Thank you for supporting a local farmer.

By Donation ~ Assorted cones of weaving fibre. Check them out in the Guild Room.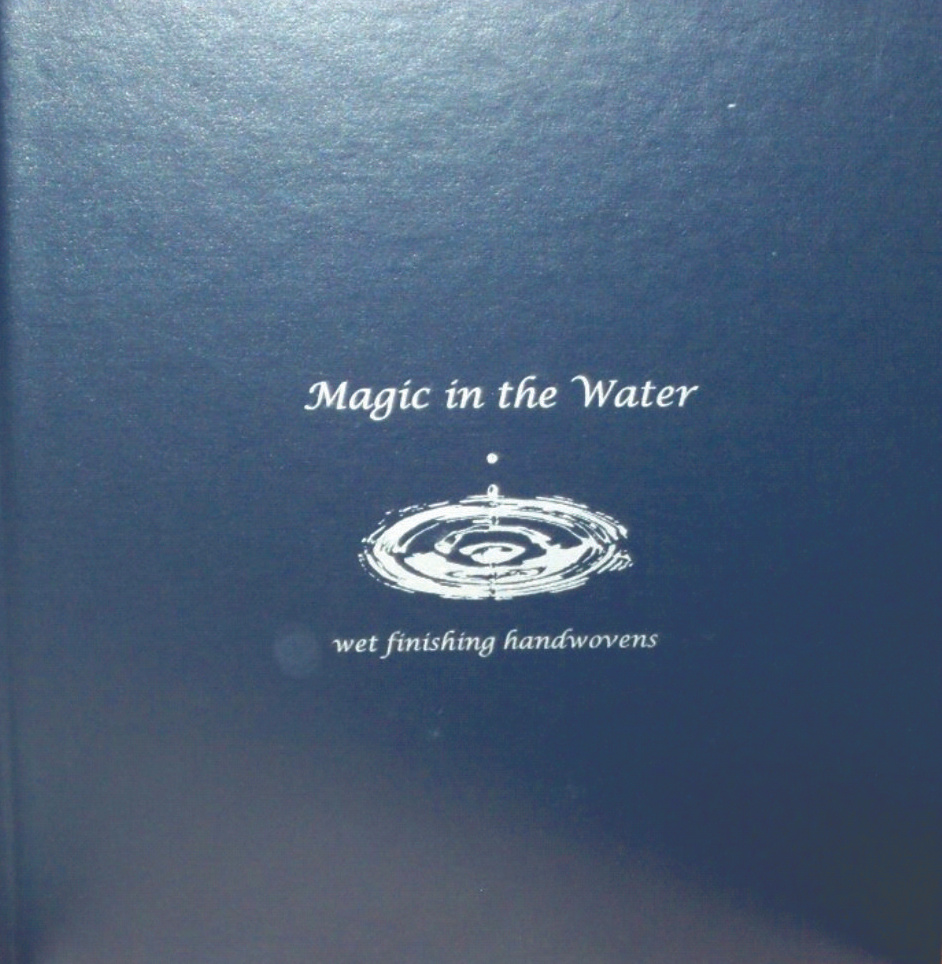 For Sale ~ Magic in the Water: wet finishing handwovens by Laura Fry.

http://www.blurb.ca/b/8516297-magic-in-the-water

For Sale ~ The Intentional Weaver; How to Weave Better by Laura Fry.
http://www.blurb.ca/my/store or search for the title on the
blurb.ca website.