The Prince George Fibre Arts Guild (formerly known as the Prince George Weavers and Spinners Guild) was pleased to host the 2019 ANWG Conference here in Prince George, BC the week of June 11-16, 2019. We chose the theme Confluences for several reasons.
Prince George is located on the confluence of the Fraser and Nechako rivers and the intersection of Highways 97 and 16. Our community is ethnically diverse with many cultures, which is reflected in our arts and food. We are a small community of approximately 75,000 in almost the centre of the province. We are surrounded with lakes, rivers, hiking trails and easy access to mountains. The Ancient Forest is a rare inland rain forest with cedars that are thought to be up to 1000 years old, our newest provincial park and easy driving distance from town. There are many hiking trails for those who like to get out into nature.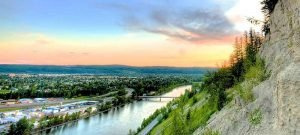 Most fibre artists work in more than one category – spinners knit, weavers spin, knitters felt. Many of our Guild members do needle crafts and quilt. We therefore encourage participants in our conference to explore the confluence of working with more than one fibre craft or join with others to create something that reflects our diversity of skills and knowledge as well as our encouragement and support of all who work in the fibre arts.
The conference took place at the
Civic Centre, the
Coast Prince George Hotel by APA, and the
Marriott Courtyard. The hotels are all within a one block walk of the Civic Centre. We also had the
Prince George Public Library and
Two Rivers Gallery involved, both on the same plaza as the Civic Centre.
Our keynote speaker was
Abby Franquemont, author of
Respect the Spindle and well known in the spinning and weaving world for her knowledge of Peruvian textiles. She was raised by anthropologists spending much of her childhood in Peru living in a town, raised alongside the local children. Her experiences in the confluence of Peruvian and North American cultures will lend a unique perspective and enhance our theme of Confluences.
Thank you for joining us in June 2019!
Laura Fry and Birthe Miller, co-chairs